A while back, LinkedIn introduced the ability for members to "Follow" one another instead of taking the original "Connect" route to interaction. In the beginning, the follow feature was only available to those with a coveted "inFLUENCER' title but now, anyone can switch their LinkedIn profile button from 'Connect' to 'Follow.'

Why am I bringing this up? From an innovation standpoint, it might not seem particularly groundbreaking. I mean, other platforms have flaunted a follow option since day one. But for LinkedIn's professional and business-focused users, it offers a more deliberate way to position yourself as a B2B thought leader, discuss questions, and share ideas with like minded people. At Channel Maven, we talk to IT and telecom companies and their executives all the time about leveraging LinkedIn the "right way" for things like prospecting, social selling, Partner recruitment, and account mapping - here's how the "Follow" option can help.
The Difference Between "Connecting" and "Following:"
The distinction between Connecting and Following on LinkedIn is simple. A connection is defined as a two-way relationship that requires one user to send an invitation and another user to accept. Following, on the other hand, allows one user to see and interact with another user's content and activity without being connected. Turning on the Follow option will help you reach a large audience without being bombarded by connection requests from every individual user who's interested in your content.
To change your profile to show the 'Follow' button instead of 'Connect,' visit your 'Settings' in the LinkedIn mobile app, then go to the 'Privacy' tab. There, you'll find a 'Who can follow you' setting. Just tap on that and you can select the CTA for your profile. For the time being, this settings option is only available on mobile: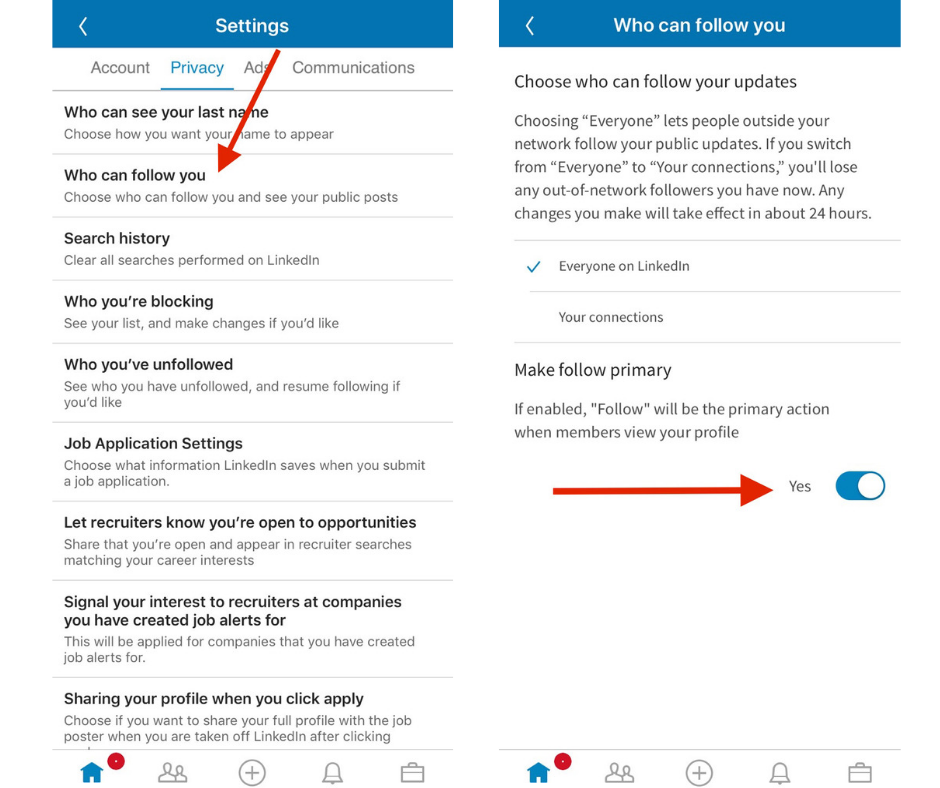 According to LinkedIn, "When members follow you, they are more likely to see your content in their feed. We've heard from you that it can be overwhelming to receive a large volume of connection requests from people you do not know. This option makes it easy to establish a relationship and share your insights with people who are interested in what you have to say. By sharing high-quality insights, you can build a loyal and engaged audience."
Position Yourself as a Thought Leader and Grow Your Audience:
What does this really mean? Well for one, it alleviates the complication of having to go through and accept hundreds or thousands of connection requests in order to broadcast your content to the folks who really want it. It also helps keep your own newsfeed and the information you see as relevant and intentional as possible.
You've probably heard the term "social media influencer," often associated with someone on Instagram or Youtube, or a blogger who's gained the trust of an online audience looking for solutions or new ideas. LinkedIn can (and should!) be used the same way: as a place where you can build ethos by sharing your ideas and perspectives, and providing your online community with relevant answers. When it comes to B2B marketing, research indicates that LinkedIn is responsible for 80% of a business's social media leads while all the other social platforms combined only amount to 19.67%. Positioning yourself as a trusted advisor will help you increase demand for your business and highlight the solutions and outcomes it offers. When you create and share relevant and helpful information, you have a better opportunity to develop a faithful and engaged audience of prospects, leads, and customers.
LinkedIn is an incredibly valuable tool for B2B marketers. Don't miss these tips to Better Engage your Channel Partners on LinkedIn, and never hesitate to reach out if you'd like to learn more about optimizing your social profiles or solidifying a LinkedIn strategy!