We first met Bobby Stuckey at his impeccable food and wine venue, Frasca, located on quaint Pearl Street in Channel Maven's hometown of Boulder, Colorado.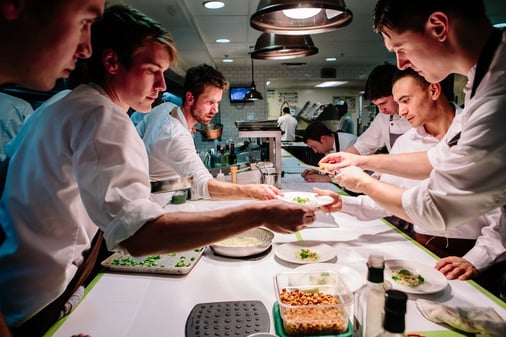 The most interesting thing about Bobby is not that he's an award winning Master Sommelier and restaurateur. (And by 'award-winning' we mean 2013 James Beard Award and 2015 Sommelier of the Year.) The most interesting thing about Bobby is how he continues to inspire us.
The secret ingredient:
Frasca has some of the best Northern Italian food you'll ever eat. It's nothing short of amazing and the wine is, of course, out of this world. But it's more than just 'the usual' fine dining experience that makes Frasca a standout.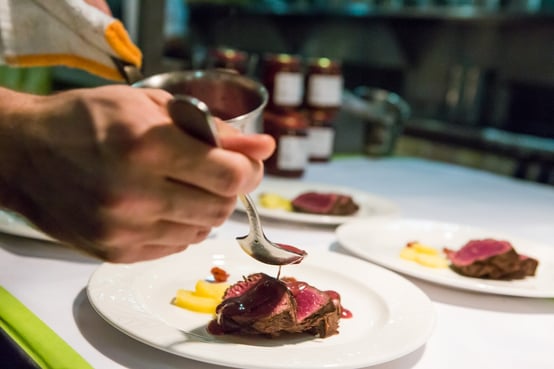 So, what is it?
You know 'the thing' that elevates fine dining a couple more notches? The food is amazing and the wine is phenomenal (all to be expected) but there's an added something… a feeling.
Almost like you're watching a performance from your table or maybe you're part of the performance, a main character instead of an audience member. The front of house team works seamlessly together to provide the best experience you'll never be able to describe… a feeling.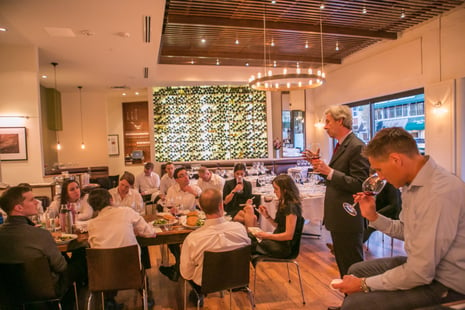 Bobby calls it being a 'Hospitalian.' Not just showing hospitality, but actually consciously creating elevated feelings in us. And by "us", we mean everyone he meets. All of the people who work at Frasca are Hospitalians. But, what does that mean in practice?
First of all, it's a team effort and Bobby adamantly describes it exactly that way. Yes, he has won awards but when you talk to him, he's the first to say, "it's not me, it's the team." The authenticity with which he makes that statement is palatable and punctuated by his own confession:
"My journey through life is being a #Hospitalian. I fulfill my journey by being a Sommelier." - Bobby Stuckey
So what is "it" exactly? What is that feeling we can't describe? According to Bobby, it's the continual practice of looking outward and being really humble… it's not something you can read about and apply it to life, life applies it to you by giving you opportunities to turn people's mood around with authenticity and intention.
Last November, Bobby gave a Ted Talk about hospitality. It's worth watching and might just change your life for the better. We recently had the pleasure of sitting down with him to share our own Hospitalian experiences we have with our clients and ask him a few questions.
Here's what we learned:
1. Being a Hospitalian is not trained into people.
It's not something you can learn from reading a book, it's a team effort, and it's a conscious choice for everyone on staff. They all help each other stay on track. This explains why they seem to glide around the room, executing hospitality in unison. It also explains why your waitperson is not the only one who tends to your dinning experience. And Bobby says the back of the house is just as involved even though you may never see them.
2. Positivity is a required trait.
Job interviews can be deceiving because people are on their best behavior. Bobby uses expressed positivity and their ability to fit with the team as indicators of success. "I will hire someone with spirit who will fit in over someone with years of experience who won't." (Bobby also mentioned reading an article from Harvard about how positivity makes us smarter.)
3. It's ok to elevate people to being a customer.
That's what Bobby calls it when they let someone go. Being a Hospitalian is easier for some than others, and that's ok. So when someone doesn't work out or adopt the practice, it's acceptable to 'elevate them to customer status.' Just in putting it that way, you can see how Bobby talks the talk and walks the walk.
It was an honor and a privilege to spend time with Bobby Stuckey. We're grateful to have a label for our actions with our own customers because we strive for the same principles. In our last team meeting, here's what we said about being a Hospitalian: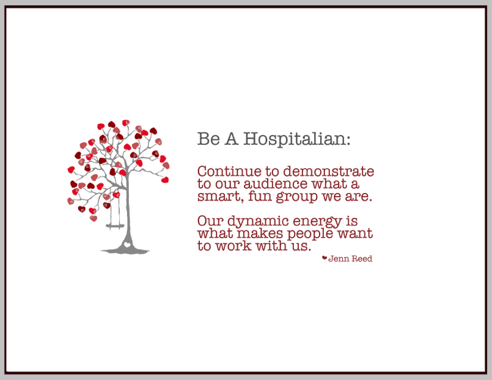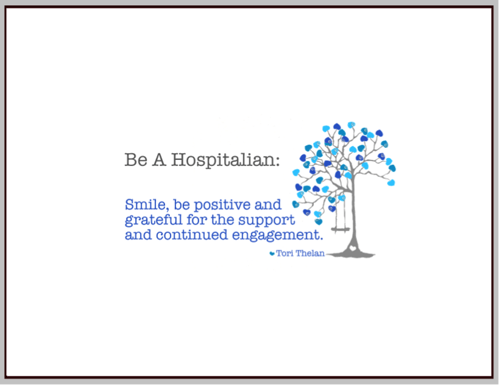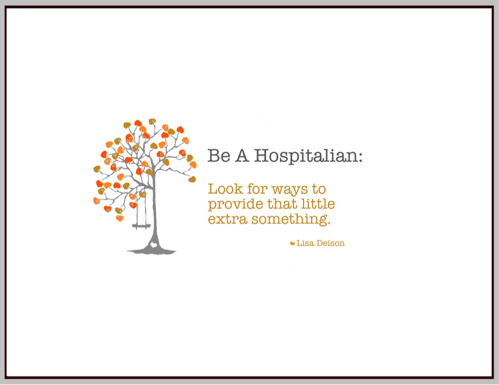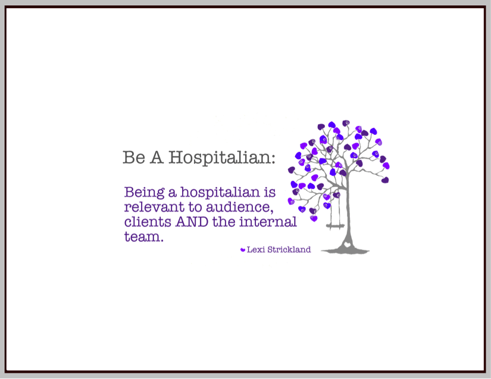 Excellence is Contagious. Pass it on.
Photo Credit: Julia Vandenoever