When you think of Partner Platforms, a few different types should come to mind: Marketing Automation, Partner Relationship Management (PRM) Systems/Portals, and Point-Of-Sale (POS). If we tried to focus on all three in one blog, we would end up with a mess of different ideas, concepts and explanations. For simplicity's sake, we're focusing on a major type of platform: marketing automation.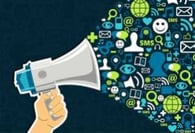 To those who need a quick refresher on marketing automation, here's a little blip. Think of software and tactics that allow Channel Partners to target and nurture prospects with tailored, useful content. This in turn transforms prospects into customers and existing customers into happy customers.
It's important not to lose sight of the fact that this is entirely about the prospect. Taking into account the evolving needs, behaviors and interactions of leads and applying them across all of your marketing channels is naturally more effective. One other factor not to lose sight of is: marketing automation software should not do your marketing and lead-gen for you.
It's simply there to amplify your efforts.
You might be thinking to yourself, "This sounds great, but how do I choose the best marketing automation provider for my Channel Partners?" We're here to help. It's important to pick a partner portal well suited for your business and goals.
Over time we get asked our opinion on which channel marketing automation tool is best for our Vendor clients. It depends on the needs of the Vendor and their Partners. Here are three we've had the chance to demo.
Zift Solutions, Inc.

Zift Solutions, headquartered in Durham, North Carolina, is one of the leaders in Channel Marketing Automation. Recently recognized by SiriusDecisions as the Top Channel Marketing & Management (CMM) Vendor, they focus on deep engagement, visibility and collaboration across the sales lifecycle.
The Zift marketing automation platform has found most success around its ease of use. Using 'Through Partner' marketing automation, they make it easy for Vendors to help Partners access and leverage integrated marketing tactics.
Zift uses Embedded Access Applications (EAAs) to enhance the platform's extensibility and integrate with CRM platforms such as Salesforce, SugarCRM, Microsoft Dynamics,, and more. Additionally, the Zift platform enables content and social media syndication options that integrate with other marketing automation platforms like Hootsuite, Hubspot, Pardot, Oracle/Eloqua and Marketo.
Zift may boast a very hands-off, automated approach, but the process is transparent and accessible enough with provided support to ensure that campaigns are not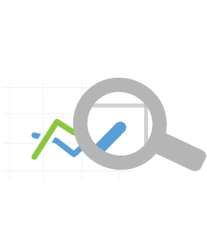 stale, but actually highly customizable. They offer better visibility and measurement via closed-loop and shared analytics in order to see a clear ROI. They also offer multiple types of support at both a Partner level and Marketing level through which one can craft high-quality content and refine messaging or provide enough information to have it done for you.
For those seeking a comprehensive and compelling solution for increasing channel sales all from a single platform, Zift is the choice.
StructuredWeb
W

ith 16+ years in channel marketing, the New York City-based StructuredWeb is known for its innovation in the field. The company was recently recognized by SiriusDecisions as the "most comprehensive" channel marketing and management solution due to its end-to-end marketing process and wide scope of innovative product offerings.
The platform offers a full range of marketing tools, from content marketing to online advertising via five marketing modules, which are supported by three management modules. Pricing is dependent on the number of Partners and modules used.
StructuredWeb also provides in-depth reports and real-time analytics on entire campaigns, programs, specific Partners or assets and provide them in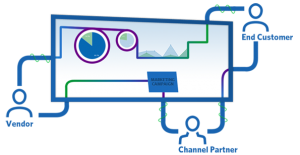 real-time in order to see immediate results and make fully educated decisions. In addition, Vendors can embed reports directly into the platform, reflecting the complete end-to-end vision. If you're looking for the complete package, just as it's rated, StructuredWeb is the comprehensive product.
TIE Kinetix

Dutch-based TIE Kinetix has been in business for over 25 years, providing them with the necessary experience for creating a unique approach to Partner marketing. As soon as a Partner signs up through the TIE Kinetix platform, their content is automatically connected with the Vendor's content on the Partner's website. By optimizing the end user experience, they optimize brand control and lead/sales conversions.
TIE Kinetix focuses heavily on their platform, but not in the typical way. They look to shorten the path to success by making sure everything is done automatically. Content is customized for the Partner through integration with the supplier site, and then everything is pre-baked before it becomes available to the channel community.
Since everything in the platform is centered on content distribution, everything is essentially connected to syndication. In their own words, they say to look at it like, "your Partner marketing funnel." Tie Kinetix provides the content syndication capabilities to automate the work needed to do everything from audience generation to buy button conversion.
This provider goes by the idea that the more work it takes your Partners to execute a marketing play, the less ROI your channel program will produce. Their goal is to remove all the work needed to execute a marketing play. If you're looking for a marketing automation platform that is fully automated and hands-off, look no further than TIE Kinetix.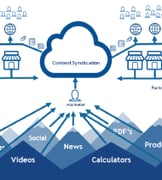 One can see from looking that while these three providers all specialize in marketing automation, their platforms are very different. One may take a fully automated, hands-off approach or the fully customizable, internally managed path. There are also the in-between options for those not looking for an extreme. In any case, these are just three of a number of platforms that if applied properly, will generate leads, turn prospects into customers and existing customers into happy customers.
Stay tuned for more assessments as we review POS (point-of-sale) and PRM (Partner relationship management) platforms in the coming weeks. Know of one that needs to be on the list? Please don't hesitate to reach out!
Happy Hunting!
Photo Credit: Content Marketing Institute, Zift Solutions, StructuredWeb, TIE Kinetix